;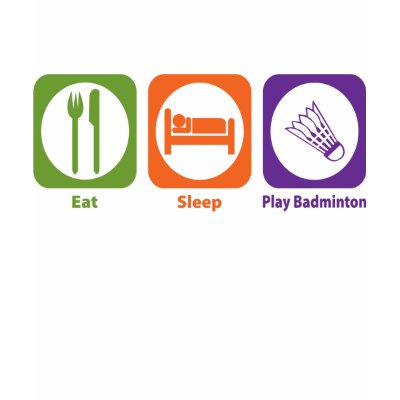 I have been off the court and off the sweats for almost a month before yesterday. I feel kinda heavy and sluggish not to mention easily tired and fatigued. In badminton, the effect of a long time absence sans training or fitness training, always take toll on your game consistency and skills.
The simple reason to this would be that our body adapts to the kind of "stress" we constantly subject it. If you don't use your muscles, joints, nerves etc, chances are your body tries to redirects the energy intended for such "memory" job and then redirects it to current energy requiring efforts. Reflexes will be dulled, movements will be sluggish, flexibility will be less and so on. Thus, the importance of consistently maintaining a skill and fitness level in badminton. What constitute a "regular" interval of playing is really a matter of discussing it with your coach trainer.

During my last game I learned a few more tactics that I knew readily in paper but couldn't execute well on court. I have been struggling before to counter the return of of service to my backhand side especially when I'm positioned at the center of the court when my partner serves the shuttle. If in my sufficient anticipation this will be the return tactic of my opponent, I position my right foot forward on defense and tries to get the shot with a backhand clear or drive. Sometimes I do the round the head forehand clear but this is too tiring for me and I'm pretty slow in returning to my defense rotation.

A little left-my preferred position now when my partner serves on the right half of the court.(picture from badzone uk)



What I do with my men's double partner now is ask him to get ROS in front of him as well as those in his forehand side up to the mid court. I take the rest of the return shot. I position my self defensively more on the left side half of our court when he serves on the ride side. If he serves on the left side of the court, I stay In the middle of the court taking care of all return shots on the forehand from mid court to back court and the back hand side on the back court.

I find these tactic rather more plausible and relative easy and less tiring. During the last game, we made better percentages on our return of service shots.